Last Stand of the Templars
Posted April 13th, 2012 at 07:22 PM by
Mossman
In honor of Friday the 13th...
Sir Duncan clutched the sacred Templar banner and stared down at the scene of horror that spread out before him. Pouring out from the Black Forest was an army of foul beasts, their glowing eyes and wicked fangs gleaming in the morning light. Never before had so many wolves united in a single force.
"Can we hold out until reinforcements arrive?" Sir Berit's voice held little hope.
"We must." Duncan clapped Berit on his mailed shoulder. "Else the sacred relic fall into the hands of Utgar." He shuddered inwardly at the thought.
"Sir, my men and I shall meet them on the field of battle and, should fate smile upon us, drive them away." On any other man, Sir Dupuis' smile would have bordered on crazed, but the Knight had led his cavalry to many an improbable victory.
Duncan nodded and barked out orders, organizing what might be the final defense of Castle Grey.
Down below, trumpets blared and the Templar Cavalry surged onto the field in a wave of shining silver and white.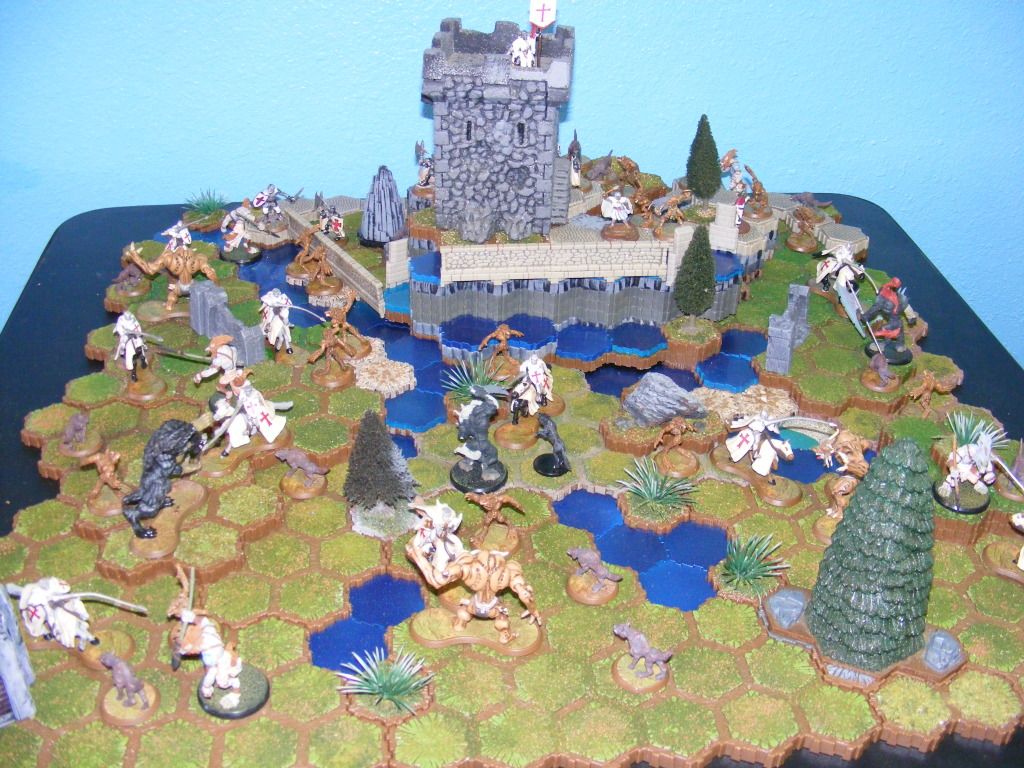 Duncan watched, teeth gritted, as the sacred charge met the furious forces of black and brown.
Knight met wolf in a deadly dance of death.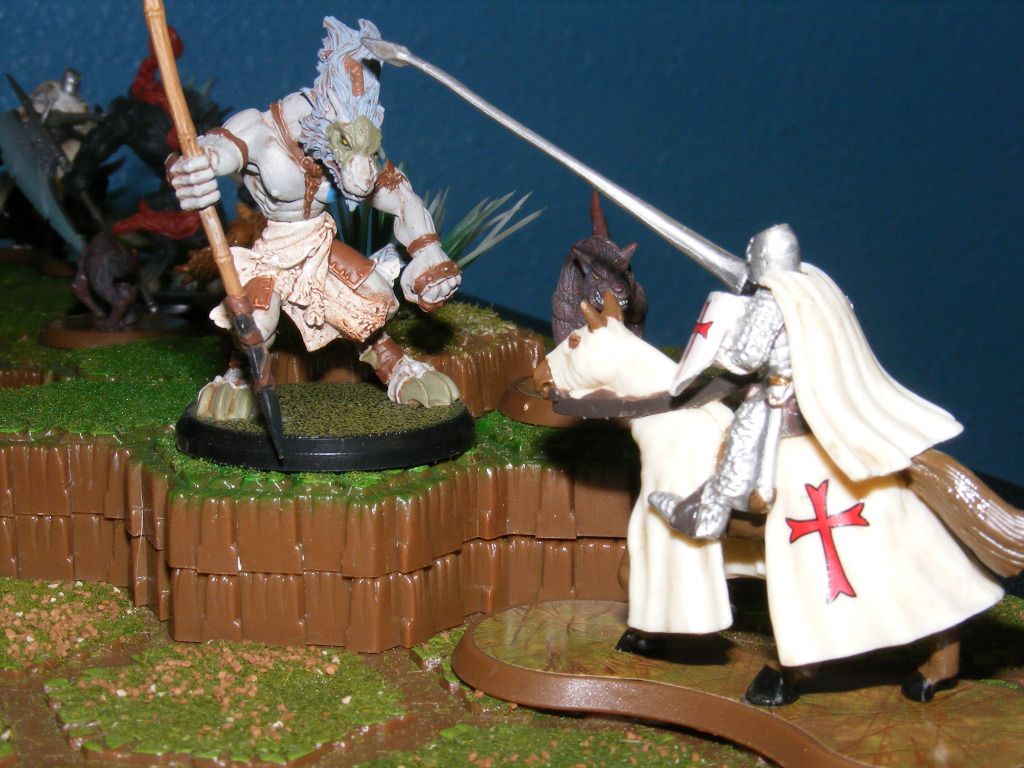 The wolves stood their ground against the fearsome charge as gleaming lances bit deep into fur, flesh, and bone.
But too many lances bent and broke against the most powerful of the wolfen forces. Soon, the tide was turning as the superior numbers of the wolves drove the Templars back toward the hill upon which the holy castle perched.
Sir Mandar, a veritable Goliath of a man, took up the defense of the western approach, and cold steel met primitive spear.
Sir Verisim, the Templar's resident cleric, put aside his holy book in favor of his sacred hammer. Forged in the Sacred Lands and quenched in holy water, the hammer was a feared weapon.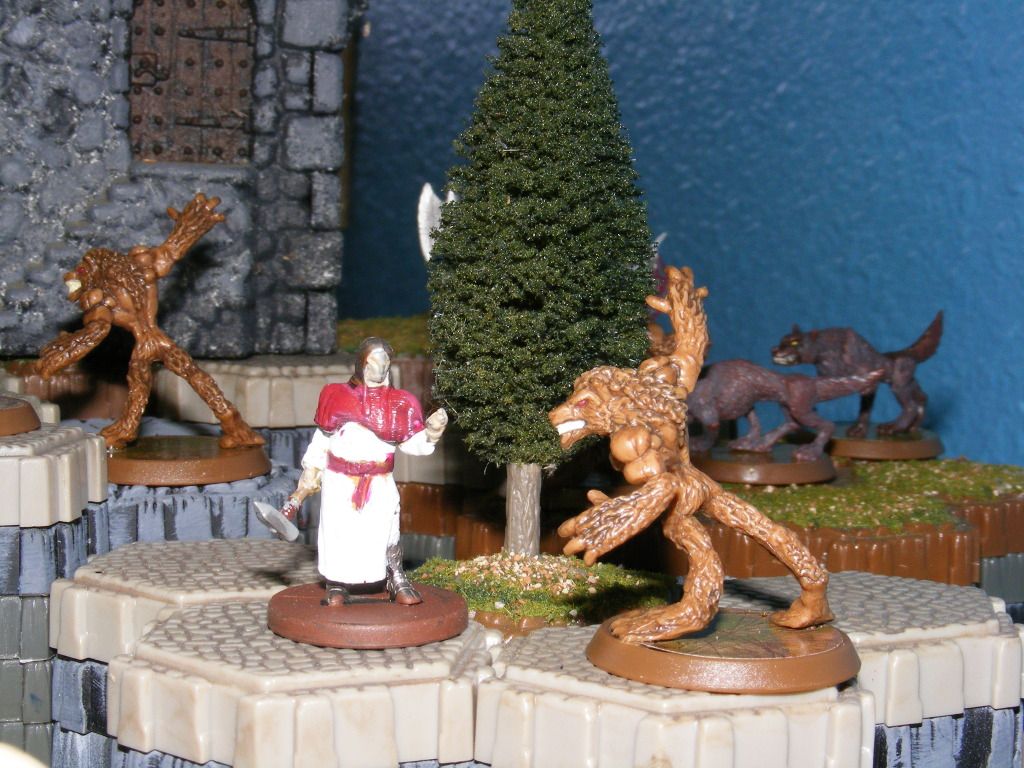 Sir Laccel, noblest of Templars, stood atop the hill. Backed by Templar foot, he shouted defiance at the foes as they charged up toward the Templars' final defenses.
The Templars fought bravely, bleeding the wolfen forces as they fought their way up the hill. At the base of the castle, Khosumet, leader of the wolves, broke through. Sir Berit met him before the castle door, and the two fought with fury and resolve, knowing this was the last line of defense.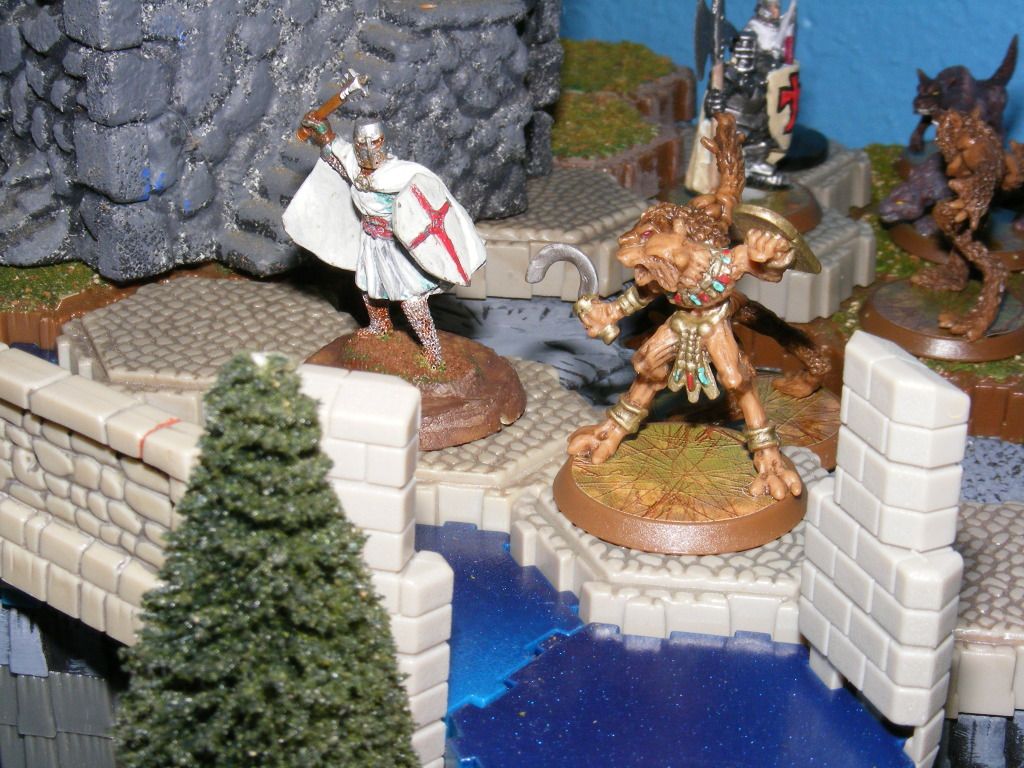 From the top of the tower, Duncan shouted orders and waved the Templar banner, hoping to rally his men for a final stand. In the distance, a cloud of dust arose, and within its depths he could see the gleaming armor of the Knights of Weston, coming to their aid. But as he looked down at the ever-tightening circle of wolves, he wondered if his men could hold on much longer.
Would this be their greatest victory, or would it prove to be the last stand of the Templars?
Comments
5
Comments
Posted April 13th, 2012 at 11:18 PM by

ZBeeblebrox
Posted April 14th, 2012 at 09:39 AM by

chas
Posted April 14th, 2012 at 10:07 AM by

flameslayer93
Posted April 19th, 2012 at 09:24 AM by

Sylvano the Wasabus
Posted August 25th, 2012 at 05:05 PM by

15gudasc
Recent Blog Entries by Mossman